Sometimes, shopping is a frustrating task or topic for some people because they don't know about their body shape or type.
Your dressing plays an intense role in getting to know you and your personality. A person's dressing sense is also a part of their first impression of the people they meet. All of us indeed want to look pretty and attractive in what we wear, but only a few of us understand the proper clothing to choose. Once you realize and find your correct body shape, you'll shop for the items that will look good on you. That shall save both your time and money. If you happen to have a spoon body shape and are troubled about what to buy and wear, this article will provide you with all you must know.
Spoon Body Shape
For readers not aware, let's first discuss the spoon body shape. 
Many body shapes exist, for example, lean, curvy, slim, and many more. However, it is essential to note that all body types are perfect just as they are, and we must learn to embrace our individuality. Though there are parts of your body that you might want to change, dressing up is a lot more than hiding those parts. It is about highlighting how happy and content one feels within their body. Thus, the spoon body shape and pear-shaped bodies are often confused. Since both of these types include a larger butt, curvy and lifted hips, and a more petite upper body in proportion, the spoon body shape has a big tummy as well. This factor doesn't apply to a pear-shaped body. A pear-shaped body doesn't typically have a big stomach. Instead, the waistline is definite.
So far, the only body shape considered balanced is the hourglass body shape. Therefore, it is vital to wear clothes that balance our overall look when dressing up. Remember that when it comes to the spoon body shape, one must buy clothes that highlight the upper body since that is relatively small compared to the lower.
Styling Options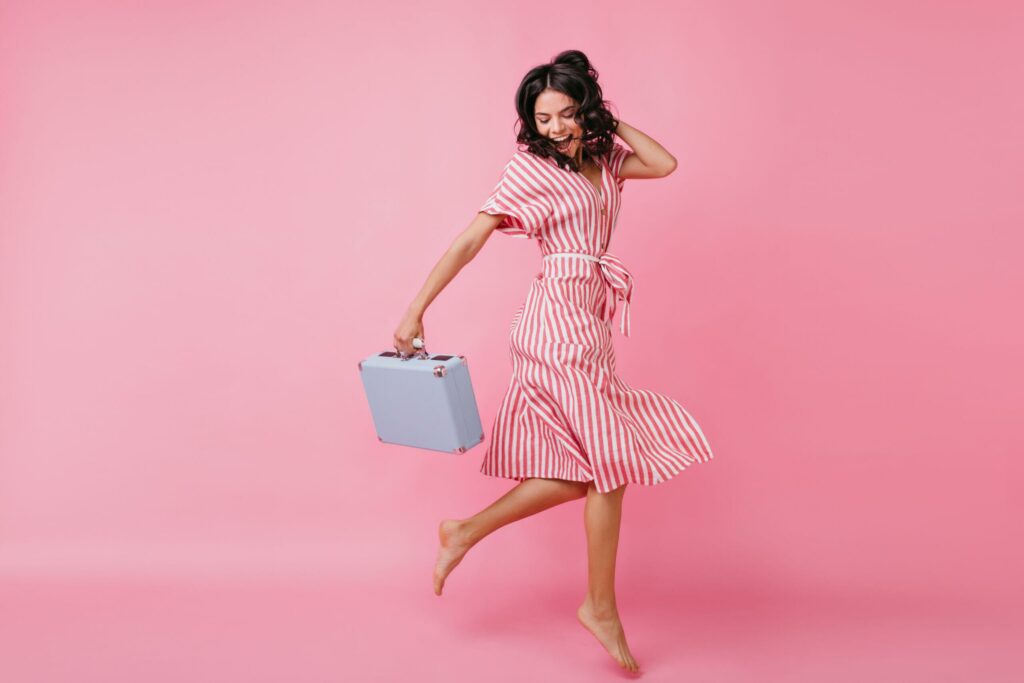 Before getting to know about the possible styling options, there is another factor that one must bear in mind while discovering their body shape type, and that is what areas muster fat. Well, this might not pose as something necessary, but being aware of the parts that can quickly pile up fat will help you stay away from health complications. People who have the spoon body shape are known to accumulate fat around the hips and thighs.
1. Emphasise the Upper Body
Emphasizing the upper body means maintaining the theme of balancing the overall body shape. Hence, one can go with dresses or pieces such as off shoulders. One can always choose from tons of options when it comes to off shoulders and adapt a personal style where they feel confident. Aside from off shoulders, if you wish to wear something that looks elegant and maintains your style, you can go with strapless dresses. A-line dresses are helpful, too, as they are fitted to accentuate the upper half while ensuring enough flair at the rest of your figure.
Fitted coats and blazers that offer waist definition to your figure must be a part of your closet. Even though it is most likely that you have a visible waistline, giving it that hourglass shape aesthetic will beautify the shape.
2. Highlight the Neck
You can also opt for dresses that highlight your neckline with a spoon body shape. Highlighting the neck isn't much of a difficult task, as you can wear V-lines, or a shirt that has cuts to draw attention, or wear wide necklines to give the illusion of broad shoulders. If you are wondering about tops other than dresses, you can go for tops that are off-shoulders, strapless or empire waist. An empire waist targets your abdomen to make it look defined. Bell sleeves are also an excellent idea.
Apart from the clothing items, you can incorporate accessory items too. For example, you can wear necklaces that end at your cleavage or wear dangling earrings instead of studs.
3. Work on the Lower Body Too
With a spoon body shape, you should wear lowers that ensure that your upper body stays dominant as compared to lower.  Wearing straight pants is ideal, but if you are exploring more options, you buy wide-leg pants as they are the perfect option. The reason why wide-leg pants are preferred and are a flattering option is that they swiftly camouflage your thick thighs and hips. If that is not your pick, you can also go for high waist jeans. 
High waist jeans help elongate your legs and make the appearance of your hips and upper body even. Tummy control and boot-cut are sought-after options too in the jeans section for spoon body shape.
4. Choose the Right Colours
Though we all might feel like professionals at this job, the truth is we aren't. Colour combination plays a crucial part, and most people don't seem to understand that. Since you'll be focusing on your upper body more than the lower, you must go for colors that perform that purpose. For example, you should always use dark or neutral colors for the lower body and bright, bold colors for your tops. If you happen to be buying prints or designs, make sure that they are for your tops. Wearing a dark color but patterns will bring more attention to your lower body than the upper.
It would help if you used the color combination technique wisely to uplift your dressing game with colors that look good on you.
Summing Up
One must work on defining and accentuating their upper body while cleverly balancing the lower region, too, if they happen to have the spoon body shape. While you can certainly opt for the given suggestions, it is always a better idea to play around a bit. 
You can shop for items that personally attract you or love and feel empowered and self-confident. After all, loving yourself is the secret to feeling happy with your body and looks.